How to Promote YouTube Channel on Instagram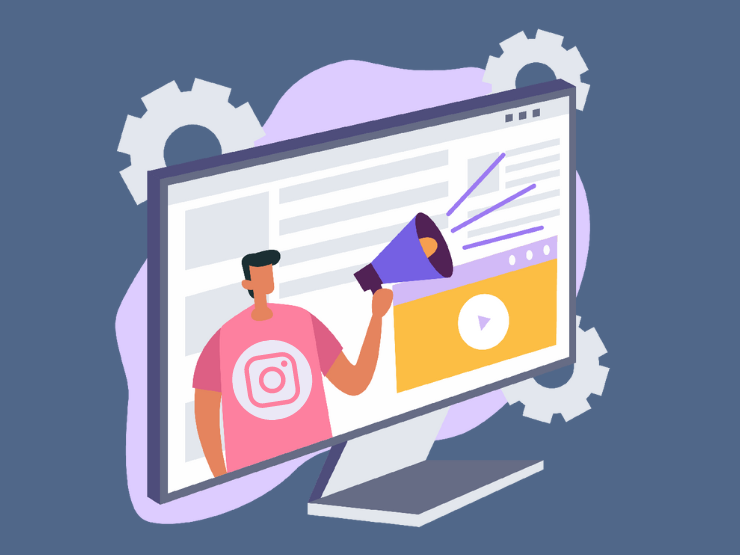 You undoubtedly already have a significant Instagram following as a YouTuber. However, did you know that you can utilize Instagram to advertise your channel and increase your subscriber base?
As a blogger, you're probably well-aware of the significance of promoting a YouTube channel on IG in order to expand your audience. What better method to advertise your channel than on the world's most popular photo-sharing platform do you know? Instagram is a wonderful tool for reaching new subs and showcasing your channel to the people outside of this video-hosting platform.
With only one click, your YT content is on its way to multiple platforms. Many of us who have a social media presence should take advantage of this opportunity. If you decided to give yourself a little boost but don't know how to promote YouTube channel on Instagram, read this post to find out about the best tips and tricks.
If you are interested in boosting your channel in the shortest possible time, you should definitely consider buying YT social signals from a reliable service. These are likes, views, comments, and subscriptions that come from real accounts and increase your traffic in the best way possible.
Why is Instagram a Helpful Tool to Promote a YouTube Channel?
Instagram is the most successful social media for advertising content online, and it may be very beneficial for boosting your channel. This is due to the platform's ability to share photographs and videos with your followers, allowing you to represent your work that clearly communicates its value and attractiveness.
Additionally, because of IG's highly engaged user base, postings receive a lot of attention and interaction, offering you more opportunities to reach new viewers and gain momentum. Insta user-friendly interface and intuitive ranking system make it simple to reach your target audience and succeed as a YouTube influencer. Thus, to effectively build your channel, Instagram should be at the top of your marketing strategy list.
YouTube does not allow you to communicate with your audience in the same way that other social media sites do. For instance, you could urge your fans to follow your new social media account, and if they do, you could send them a thank-you message on their preferred platform.
You've worked extremely hard to make your Instagram YouTube channel and profile one of the greatest. But, if no one knows about it, what good is in it? In this post, we'll show you how exactly you can use Insta to advertise your channel and gain more views and YouTube subscribers.
Top 15 Tips to Get Started
Content is crucial first and foremost. You must provide fascinating and engaging content if you want more subscribers to your channel. But how will the world find out about your channel once you've created outstanding content? These fantastic insights will undoubtedly assist you in attracting the much-desired IG attention to your channel.
Optimize Your Bios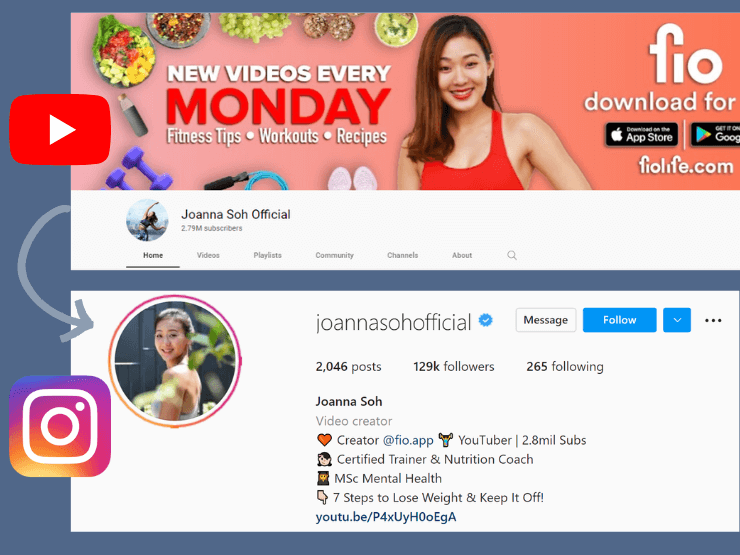 Joanna Soh's YT/IG accounts
Start by improving your bios to advertise your YouTube channel effectively. Incorporate a link to your channel in your IG bio like fitness blogger Joanna Soh, use relevant keywords so that your profile will be found in a search engine more effectively, and make sure your profile is public.
Once you've completed your bio, you can begin uploading compelling content to pique people's interest in your channel. People will be more inclined to check out and subscribe to your YouTube channel if you can encourage them to engage with your Insta account.
The same works for your YT account. You will need to promote your IG profile there as well. For example, you can announce that you have an amazing Insta profile with even more content that can interest your fan base.
One more tip – use one profile picture for both accounts. This is one of the best ways to promote YouTube videos because people will recognize you better.
Create a Hashtag Strategy
Hashtags are an excellent method to be noticed on Instagram, and they may also be used to advertise your YouTube channel. Just come up with a few relevant hashtags (e.g., #YouTube, #YouTuber, #video) and use them regularly in your posts.
However, it is also important to be more specific with your tags so that your potential viewers don't get lost in the content in their Instagram feed and Explore section. For example, if you make cooking videos, use hashtags like #foodie or #cooking. You can also use hashtag suggestions from other professionals in the field of cooking.
Share Some Insights of Video Making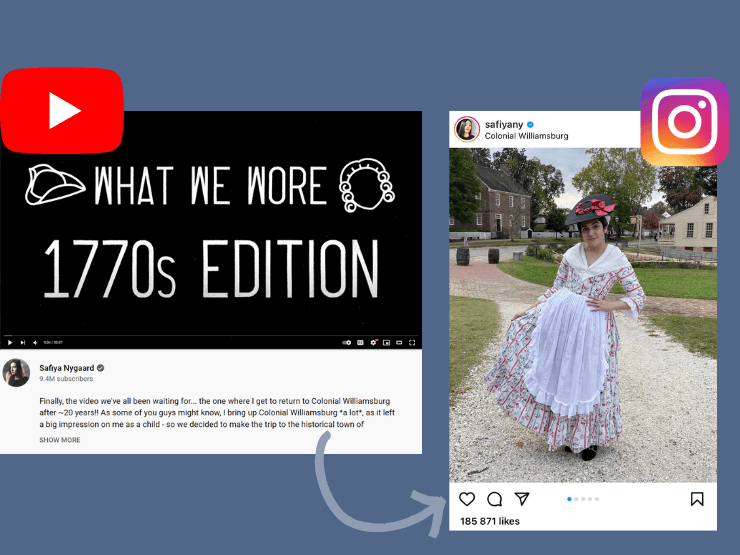 Safiya Nygaard's YT/IG accounts
Post photographs and videos from behind-the-scenes. Your Insta followers will adore seeing such footage of your creative process. This tip is often used by YouTube blogger Safiya Nygaard (9.4 million subscribers on YT and 2.1 million subscribers on IG).
You should share not only behind-the-scenes photographs and videos from your YouTube shoots but also sneak peeks of upcoming content or just amusing posts that demonstrate your personality. Make sure to mention your channel in your posts as well.
Encourage Your Followers to Share Your Content
You can urge your fans to share your content once you've established yourself as a reliable source of information. This might be done by including a link to your channel and the hashtags you've decided to advertise it with.
Of course, you can do it on YouTube, but you have another audience on IG, so why not take advantage of it?
Measure Your Progress
Expect nothing less than a slow and steady climb to the top. Investing the time to make a solid social media plan will get you where you need to go. You can evaluate which strategies are most effective in drawing attention to your channel and content by tracking your progress in IG account insights and YT analytics.
Use Instagram Stories
If you're a YouTuber trying to advertise your channel on IG, using Stories is among the finest options. Stories are a terrific way to show your fans what goes into making your videos behind the scenes, and they're also a great method to promote your YouTube content.
Make sure to share a teaser for a future video on your Story if you're very thrilled about it. You can also make use of surveys, Ask Me function, and other features. All of these will help your material get the attention it deserves and promote YouTube video on Instagram.
Share Previews of Your Videos in Your Instagram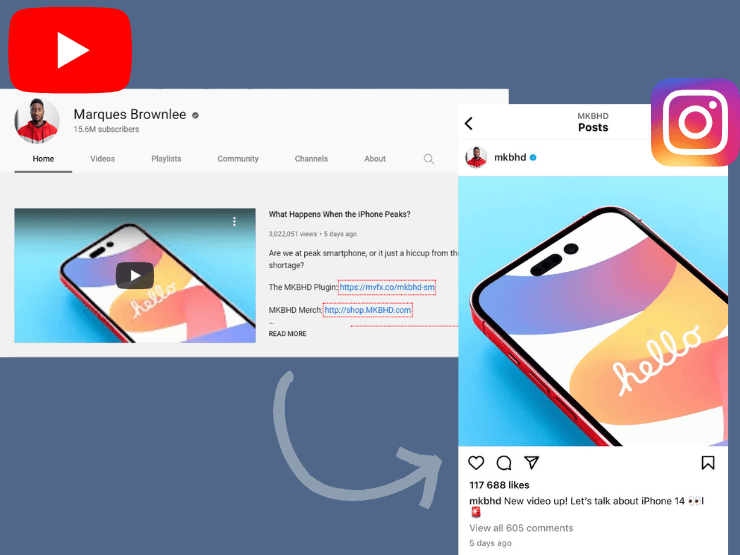 Marques Brownlee's YT/IG accounts
Actually, it's a must if you want your promotion to be effective. There are a few compelling reasons to post an Instagram teaser of your YT video.
For starters, it can help to pique people's interest in your film and persuade them to watch it.
Instagram users are more likely to watch videos that have been shared by people they follow, so sharing a preview on Insta can help you gain more views, likes, and comments.
Finally, sharing a preview on IG can help to drive traffic to your YouTube channel.
Take Advantage of Instagram Reels
Instagram Reels is an excellent way to advertise your YouTube videos and grow your channel in a unique way.
In fact, publishing some chunks of your videos directly to Instagram and encouraging likes and comments is a great strategy that few bloggers do. By getting your vids in front of more people, you'll be able to expand your reach and gain new admirers of your work.
Use the Swipe Up Feature to Link Your Channel
This is a relatively new feature which allows you to add your link to a sticker. Before 2021, it was impossible to do so for those who have less than 10k followers on IG, but now, it is available to each blogger no matter how big his or her fan base is!
How does Swipe Up feature work? You post your link in the form of a sticker, your followers tap on it and go directly to your video. It is extremely convenient because now you do not need to write something like "follow a link in bio" and so on.
Interact With Your Instagram Followers
Instagram is a fantastic way to communicate with your followers and grow your online profile. You can not only network with like minded people but also engage directly with your audience by liking and commenting on other users' images.
This direct engagement is critical for boosting your channel because it allows you to form stronger bonds with viewers and learn more about what they want from your material.
So don't put it off any longer – get started immediately!
Share Video Links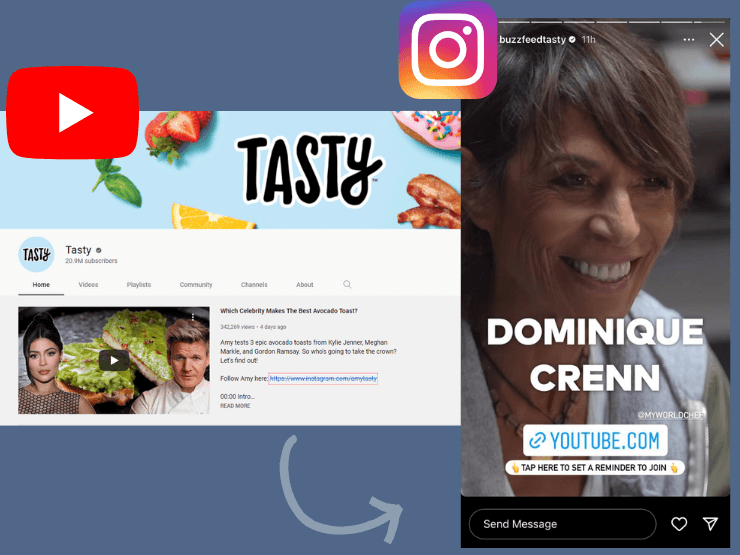 Tasty's YT/IG accounts
Instagram, just like many other modern platforms, are all about engagement. This is something you should take advantage of. Sharing video links is a terrific way to increase the number of likes on your YT videos. You'll not only increase your own engagement, but you'll also be offering your followers useful stuff they'll love. For example, like Tasty channel leave the reminder about future livestream in Instagram Stories.
Both in terms of SEO and advertising, link sharing is a crucial technique. Instagram has added the ability to share links via Stories to its users. So it would be a perfect strategy if you include the link in each of your teasers in your Insta stories.
Also, do not forget to speak about your Instagram on YouTube. New followers is always a perfect idea.
Try Creating Direct Message Groups
Direct messages are perhaps one of the most beloved Insta features, which turn it into a real social network. It allows you to get acquainted with new people and get in touch with friends and family. Why don't you use it for promoting YouTube video on Instagram?
What are the benefits? First of all, you can send messages to any user on IG. Secondly, you can send your updates to a group of up to 15 people! Isn't it useful? Create your thematic groups; it can be a fan chat or a conversation where your followers will be notified about upcoming videos. You can also create a channel for 'the chosen ones' and post the content which can only be found in this specific group. One way or another, direct message groups are really worth trying.
Tag Accounts That Repost Videos Related to Your Topic
You may ask why you should bother anyone. Because it's a great way to get promoted as well! The more people encounter your content, the more chances it will be shared and appreciated.
When you make a new post, don't forget to tag (@) bloggers in your sphere (especially those who don't have a too big audience and can really notice your tagging). You can also tag some brands. However, make sure that your post is not just an ad of your channel. It has to include some really original things that can interest brands, either big or small.
Share Branded Content On Your IG
Just as with YouTube sponsorship, many Insta bloggers make huge profits by posting sponsored content on their profiles. You can also take advantage of this feature and partner up with some brands. This way, you will promote your channel and make some money.The most important thing in this case is to find sponsors that are related to your niche, like blogger Austin Evans did the cooperation with Toyota.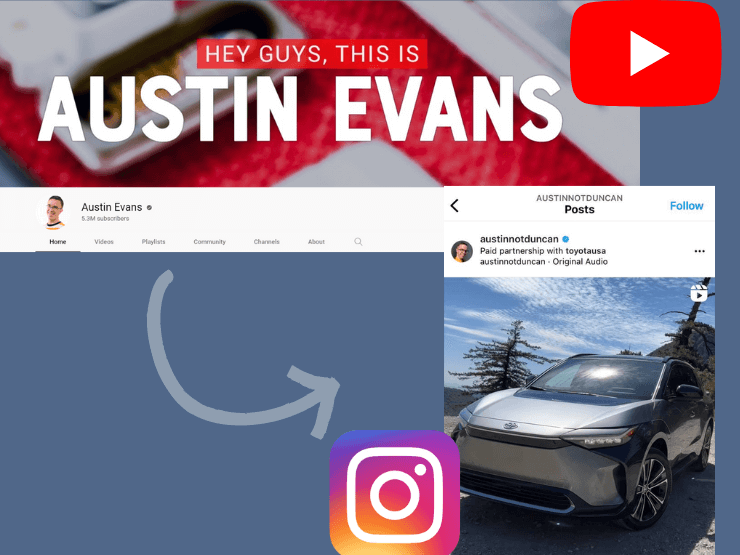 Austin Evans YT/IG accounts
Otherwise, any sponsored posts would look unnatural and may bother your audience because nobody likes when the ad is too obvious.
Be Consistent and Publish Great Content
It is a golden rule of any content making and promotion. Just do your best when you work on your channel and be creative in the ways of promoting it. How can you improve your creative process?
Make sure you post only high-quality and engaging previews.
Create only visually appealing stories.
Post beautiful pictures and add useful information in your feed.
And of course, it is really important to stay consistent. We understand that you are putting all your resources into your channel, but do not forget to post content on IG as well. Otherwise, your promotion will never be effective.
Conclusion
Instagram has quickly grown in popularity as a social networking platform. It's an excellent platform for distributing your material and connecting with new audiences. Instagram is a terrific approach to market your YouTube channel if you want to expand your horizons and grow more subs.
Since you know how to promote youtube video on instagram with all those powerful strategies, it's time to act. You don't have to employ all of them; pick the ones that are most effective for you and your company. Experiment with what works and keep note of the outcomes so you can enhance your marketing efforts in the future.
After all, if you dream about boosting your YT channel via platforms such as Instagram, you need to put in the work. Making great content, optimizing your bio, as well as using hashtags and Instagram stories are all great methods of promotion.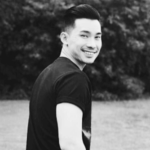 Damien Hong
DIGITAL MARKETING SPECIALIST
You can fully rely on his expert opinion in the field of digital marketing. His goal is to explain in simple terms that YouTube is the future of any business. By analyzing the target audience and trends, he can easily form a promotion strategy for any channel. His passion is to develop interesting and unusual approaches to promotion thanks to the combination of knowledge & experience.